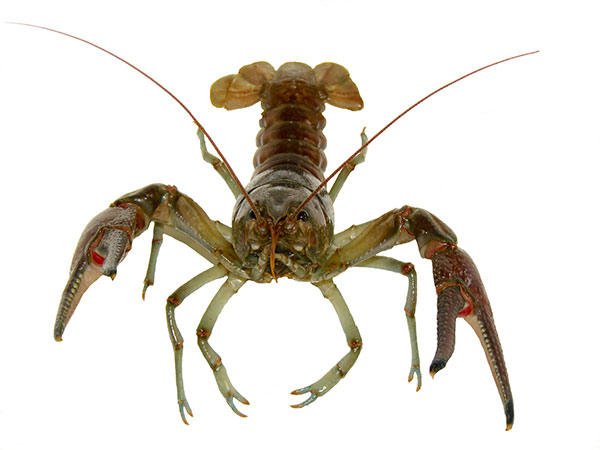 Photographer: MN Sea Grant
The Invasive Crayfish Collaborative (ICC) brings industry, science, and land management stakeholders together to improve the management of invasive crayfish in the Great Lakes Region. It is convened and facilitated by Illinois-Indiana Sea Grant and the Illinois Natural History Survey with funding from the Great Lakes Restoration Initiative.
The aquarium pet trade as a source of potentially invasive crayfish species in Serbia
Lipták, B., Zorić, K., Patoka, J., Kouba, A., & Paunović, M. (2023). Biologia, 1-9.  https://doi.org/10.1007/s11756-023-01347-0
An invasive species revisited: Continued displacement of native crayfishes by the invasive Faxonius rusticus (Girard, 1852)(Decapoda: Astacidea: Cambaridae) in Illinois after 25 years
Swedberg, D. A., Taylor, C. A., & Carlson, M. C. (2023). Journal of Crustacean Biology, 43(1), ruad007. https://doi.org/10.1093/jcbiol/ruad007
Long‐term macrophyte and snail community responses to population declines of invasive rusty crayfish (Faxonius rusticus)
Szydlowski, D. K., Elgin, A. K., Lodge, D. M., Tiemann, J. S., & Larson, E. R. (2023). Ecological Applications, e2818. https://doi.org/10.1002/eap.2818
Observations of claw differences in an invasive crayfish (Orconectes virilis)
Luzardo, A., Johnson, N. M., Custelcean, J., Prevost, S., Sampson, C., Vamosi, S. M., & Baumgartner, E. (2023). Biodiversity Observations, 13, 106-112. https://doi.org/10.15641/bo.1222
Click here to find invasive crayfish products from the ICC and its partners.
Interested in learning more about invasive crayfish in the Great Lakes Region or the ICC? Join Us! New members are always welcome.
Questions about the ICC or crayfish? Suggestions? Please let us know!