About the Invasive Crayfish Collaborative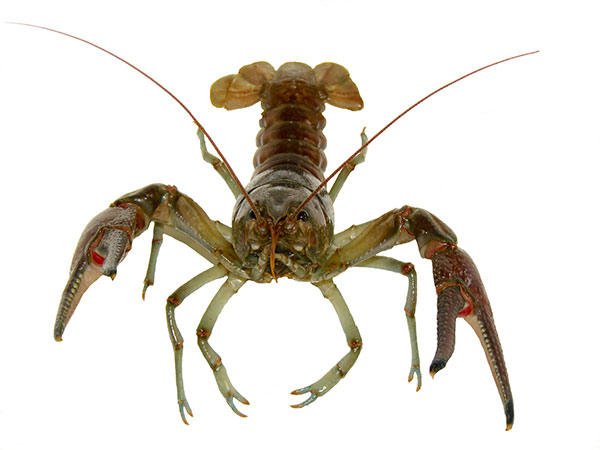 The Invasive Crayfish Collaborative (ICC) brings industry, science, and land management stakeholders together to improve the management of invasive crayfish in the Great Lakes region. It is convened and facilitated by Illinois-Indiana Sea Grant and the Illinois Natural History Survey with funding from the Great Lakes Restoration Initiative.
A report summarizing crayfish regulations in all eight Great Lakes states was made by the National Sea Grant Law Center.
Signal crayfish confirmed in Minnesota
The Minnesota Department of Natural Resources has confirmed the presence of signal crayfish, an invasive non-native species, in Lake Winona.
Invasive crayfish crisis: Scientists' quest to protect native habitats
It's not a fair battle: Two scientists on a tiny boat against one of the world's most invasive species.
Influence of reproductive state and temperature on the functional response of the marbled crayfish, Procambarus virginalis
Sheppard, N. L. M., Pham, J. & Ricciardi, A. (2023). Biological Invasions. https://doi.org/10.1007/s10530-023-03166-5
Creating a distribution model of three crayfish species of the genus Faxonius (Decapoda, Cambaridae) in Michigan streams using publicly accessible data
Homan, R. C., Baker, K. M., Roth, B. M., & Smith, K. R. (2023). Crustaceana, 96(8), 715-750. https://doi.org/10.1163/15685403-bja10311
Is chemical control for crayfish in hatchery fish shipments practical?
Allert, A. L., Westrich, D. J., Whites, D. W., Knott, K. K., Storts, N., & DiStefano, R. J. (2023). North American Journal of Aquaculture. https://doi.org/10.1002/naaq.10291
Click here to view and register for our upcoming events
Click here to find invasive crayfish products from the ICC and its partners.
Interested in learning more about invasive crayfish in the Great Lakes Region? Join Us! 
Questions about the ICC or crayfish? Suggestions? Please let us know!