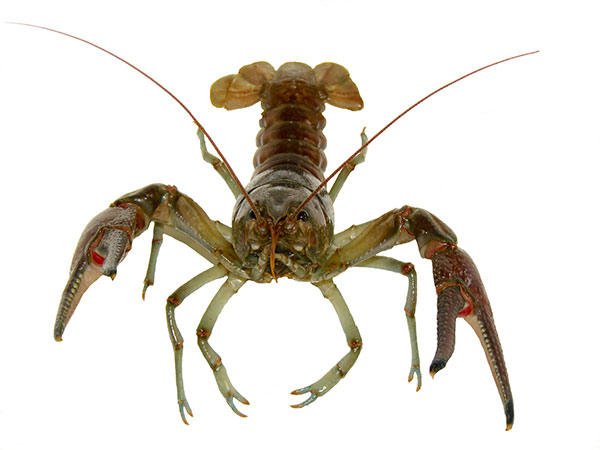 Photographer: MN Sea Grant
The Invasive Crayfish Collaborative (ICC) brings industry, science, and land management stakeholders together to improve the management of invasive crayfish in the Great Lakes Region. It is convened and facilitated by Illinois-Indiana Sea Grant and the Illinois Natural History Survey with funding from the Great Lakes Restoration Initiative.
Acoustic signals and behavior of the invasive freshwater crayfish Cherax destructor (Clark, 1936)
De Vita, C., Mauro, M., Vazzana, M., Arculeo, M., Arizza, V., Ceraulo, M., & Buscaino, G. (2023). Journal of Marine Science and Engineering, 11, 1147. https://doi.org/10.3390/jmse11061147
Microplastic burden in invasive signal crayfish (Pacifastacus leniusculus) increases along a stream urbanization gradient
Dent, A. R., Chadwick, D. D., Eagle, L. J., Gould, A. N., Harwood, M., Sayer, C. D., & Rose, N. L. (2023). Ecology and Evolution, 13(5). https://doi.org/10.1002%2Fece3.10041
A new invader in freshwater ecosystems in France: the rusty crayfish Faxonius rusticus (Girard, 1852) 
Laffitte, M., T. Baudry, M. Guilmet, T. Andrieu, N. Poulet, T. Duperray, D. Carine, Moumen B. Collas М, & Grandjean, F. (2023). BioInvasions Records, 12, 2 : 457-468. https://doi.org/10.3391/bir.2023.12.2.10
Click here to find invasive crayfish products from the ICC and its partners.
Interested in learning more about invasive crayfish in the Great Lakes Region or the ICC? Join Us! New members are always welcome.
Questions about the ICC or crayfish? Suggestions? Please let us know!